WordPress is simply another way to render communication, especially in a public forum. I've created a few websites for clients, but primarily I'm interested in helping people learn to do it themselves. Tutorials for WordPress abound online, and the WordPress Codex contains all the technical information—as well as support and oodles of plugins—that anyone could want.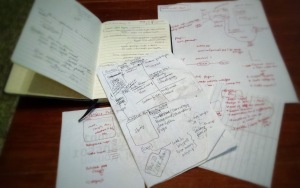 But I don't find a lot of information about the thinking behind setting up a WordPress-based site, why I should use Plugin A versus B for what I want to accomplish, or how to decide when to delve into the mysteries of coding things myself. Here, I'm showing my work as I render my new site. It's too long to do as one post, so each new post will describe the steps I take. My first one is simply planning what I want.
Goal: create an online portfolio
My primary goal was to create an online portfolio for my past and current work, with a secondary goal to create and maintain a weekly blog. However, I wanted to connect my thinking about various subjects with these portfolio projects. I think that this two-part structure might be attractive to potential clients: they get a view of "what I've done" along with the sense that I'm always learning and thinking.
I looked at a lot of portfolio plugins and themes (Justin Tadlock's portfolio plugin and theme were helpful for inspiration), but they didn't work "out of the box" for what I wanted. Rather than fiddle around with them, I decided to learn more and make my own way.
For my new website (this one), I wanted a more minimalist theme that I could also make my own. After looking at many themes, I chose the Chunk theme because I liked its stark simplicity.
Chunk has a lot of customization options, which I used to make an image header, change the colors slightly, and so on. Most themes allow you to do some or a lot of customizing—that ability is built right in. But I knew when I chose it that I was going to make more drastic changes.
The issue with manipulating a theme that comes from the repository at WordPress.org is that if the theme author updates it (for instance, he decides to add a new menu and change some of the styling code), those updates will essentially wipe out any changes you've made that are beyond those allowed by the theme itself. Enough tutorials I've seen and read make this point, so I made a child theme that I could manipulate and know that my time and effort on these changes wouldn't be lost.
Planning exactly what I wanted helped me determine the changes I made (am making) to my site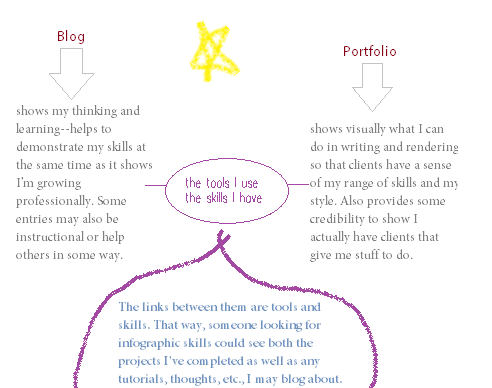 Based on my research and thinking doodles—which got me down to the basic outline above describing the high level structure and function of my site—I knew I needed to do two things:
Create a different type of entry for portfolio items
Create categories of "skills" and "tools" that would link blog posts and portfolio items.
Once I decided these next steps were the crux of getting my site up and running, I investigated all the ways that WordPress helps me accomplish these tasks without my having to delve too deeply into the raw code. For #1, I knew custom post types were the answer. For #2, I thought that custom taxonomies were my best bet. Turns out, I was right and they are the solutions. They'll be the next installment of showing my work in creating my new site.
Tools: • WordPress
Skills: • Research • Planning and structuring