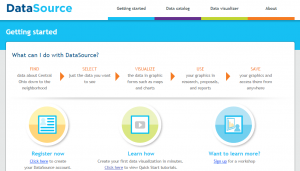 These tutorials were designed for DataSource, central Ohio's online source for community members and researchers to quickly and easily create visualizations for demographic, economic, geographic, and other data. I was part of the website team for the Mid-Ohio Regional Planning Council and wrote most of the general text appearing on the site as well as text for signup emails, "lost password" notifications, etc.
I also planned the training curriculum (see learning blueprint below) and wrote each Quick Start tutorial. For each, I created the tutorial using PowerPoint and converted it to Flash using the iSpring add-on. I wrote the script with instructions for the voice-over provider, then matched the resulting audio narration to the screen shots. I created all the screen renderings; some are static, created with Awesome Screenshot, and some are video, created with Screenr. Finally, I created downloadable instructions that matched each video tutorial.
The video links below will pop up in a separate window or tab.
---
Client(s):
Challenge(s):
Tools: • Screenr • PowerPoint • iSpring • Audacity • Android voice recorder
Skills: • User guides • e-Learning
Learning blueprint: DataSource_QuickStart_curriculum