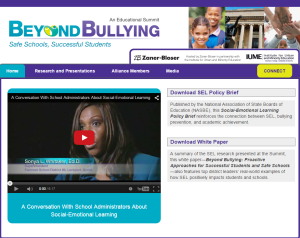 I researched and wrote a white paper using the videotaped remarks and discussions from the Beyond Bullying Summit, held in January 2013 and sponsored by Zaner-Bloser and the Institute for Urban and Minority Education at Teachers College, Columbia University. The summit's goal was to learn about and discuss the benefits of implementing social-emotional learning (SEL) and character education to proactively address bullying.
For the project, I read all of the contributors' research and also their planned remarks. In addition, I used the transcripts of pre-summit discussions and the video presentations to craft a white paper that summarized the unique information of the summit.
The white paper is here.
Client(s):
Challenge(s):
Tools: • Word • Movie Maker • Academic research databases
Skills: • Writing • Research • Planning and structuring • Analyzing and implementing